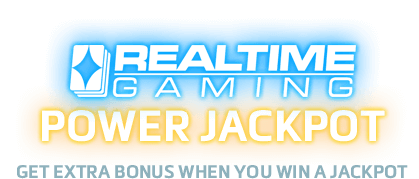 How to:
1. Play RTG slots
Any slots with jackpot, with minimum RM0.40 bet
2. To Qualify
Get a jackpot
3. How to Claim
Livechat us with the game name & time when you get a jackpot
RTG Power Jackpot Extra Bonus
EXTRA BONUS
JACKPOT EXTRA
EXTRA BONUS
JACKPOT RM999 BELOW = RM250 extra
JACKPOT RM1000 ABOVE = RM1000 extra
---
TO QUALIFY :

*BET RM0.40 ABOVE
*JACKPOT DURING FREE GAME DO NOT QUALIFY
*BET FULL LINE
*ONLY RTG SLOTS WITH JACKPOT

---
Terms & Condition

1 Valid for bets placed on only RTG slots until 31 march 2020.
2 Bets placed using without full line bet do not qualify for the promotion.
3 Return and voided bets do not count towards promotion.
4 Only bets settled will qualify for this promotion.
5 Jackpot during free game do not get extra bonus.
6 Extra bonus will be credited after we have confirmed the jackpot win.
7 Bonus funds will be credited to customer accounts on after you livechat us with the Game Name & time.
8 Customers with active bonuses already on their accounts must turnover those funds before any withdraw can be made.
9 Joker96.com reserves the right to close accounts and confiscate existing funds if evidence of abuse/fraud is found.
10 Standard Joker96 terms & conditions apply.